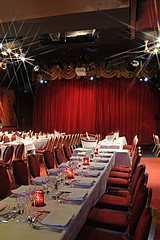 Le César Palace, haut lieu des nuits parisiennes, savant mélange de glamour et d'humour va fêter ses 20 ans de réussite. Les artistes, humoristes, chansonniers les plus connus et salués de France ont foulés la scène du César Palace, entre autres : Bernard MABILLE, Jean ROUCAS, Olivier LEJEUNE, Sophie DAREL, Yves PUJOL. Sous l'impulsion enthousiaste d'une nouvelle direction issue des prestigieux cabarets Parisiens, le César Palace a ré-ouvert ses portes afin de vous présenter sa toute Nouvelle Revue, le 3 septembre 2011. «REVUE PALACE » You will be warmly welcomed and invited in to the party, so let yourself go in this elegant and refined atmosphere of Parisian cabaret. In this Cotton Club room where there is space for 280 guests, under the responsibility of Stefan, you will enjoy noble and delicate dishes, foie gras and crayfish… And of course you will have champagne to drink, that is the classic drink for a cabaret night out. The new revue invites you in to its world of feathers, laughter, sparkles, with rhythms of modern jazz, classic music, modern music. Morgane is the live singer here at César Palace, and she will have you discover a number of different things during the 1:45 that the show lasts. A new generation of magicians, imitators, jugglers and song makers! And for a perfect end to your evening, enjoy the 70's and 80's ambiance on the dance floor!
PICS OH! CESAR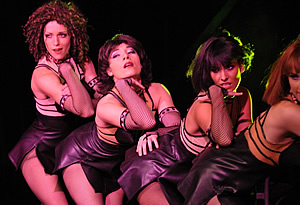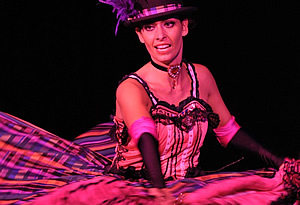 HISTORY OH! CESAR
In the finest tradition of the music hall cabaret, César Palace Paris offers you an unforgettable dinner show. Cesar Palace is a cabaret and music hall that has been well known in Paris for several decades, and it is one of the most appreciated for the quality and diversity of its shows: a mix of artists, comedians, singers, dancers, imitators, ventriloquists, there are even magicians and visual acts here. Cesar Palace has been awarded the "Lauriers d'Or du Rire" and the "Marmite d'Or" several times, acknowledging its quality shows and cuisine.
PRACTICAL INFOS OH! CESAR
Merci de vérifier les horaires selon chaque formule choisie.
Les heures et dates d'ouverture sont spécifiques à chacune d'entre elle.
23, avenue du Maine
75015 Paris