La Belle Epoque
75002 Paris
La Belle Epoque in Paris, a gem among Parisian cabarets… It has been here for over 75 years… During that time, the cabaret has created an excellent reputation for itself, on the international market of dinner and shows, and that of revues thanks to its dancers, costumes and its famous French cancan. A perfect alternative to other cabarets, tested and appreciated during 75 years.
At the Belle Epoque, Parisian cabarets used to create great artists who are still famous today.

Joséphine Baker, the first black star in history was on stage in Paris more than once. Hardly out of her native Missouri she arrives in Paris creating a huge scandal by dancing half naked in a revue of a famous Parisian cabaret. In spite of the scandal, she offered two huge successes to French music: J'ai deux amours and La Petite Tonkinoise.

When she died in 1956, at the age of 81, Mistinguett made the front page of every Parisian newspaper, she was truly one of the great figures of Paris at the time… She had no voice, could hardly dance, but Nature had provided her with the most beautiful legs in the world and a charm and personality that would truly do some damage… She was one of the greatest figure of the Belle Epoque in Paris.

Aristide Bruant (1851-1925) is famous thanks to his songs full of poetry and slang that could be heard in Montmartre. His charisma, stage presence, his deep and powerful voice made him one of the monuments of cabaret singing shows in Paris.

So come to La Belle Epoque and enjoy all the moments that can truly make your night out in Paris an unforgettable one!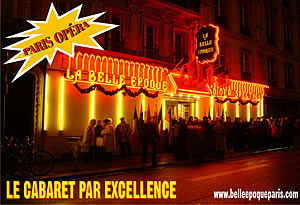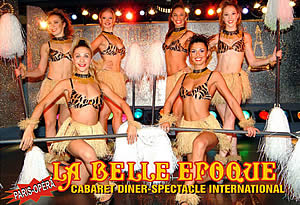 OUR OFFERS LA BELLE EPOQUE